ST XA: Always perfectly adapted to your driving situation
You would like to get more than just a lowering of your car? Then our ST XA coilover kit is just the right suspension for you! Thanks to the adjustable KW dampers, you can always further refine our recommended setting for your vehicle, to set your car even sportier or more comfortable. In any way, your vehicle gets a much better road holding with our ST XA coilover kit and it looks great with the continuously lowering.
Individually height-adjustable
The ST XA coilover kit allows you to adjust the look of your vehicle with the stepless lowering. We manufacture the adjustable spring perch from a resistant and friction-optimized polyamide composite material with stainless steel insert. Thanks to the composite material, in contrast to the anodized aluminium spring perches, possible oxidation is prevented. So you can permanently use the height adjustment of your ST XA coilovers.
25-45mm front and 30-50mm rear tested adjustment range
Adapted to your car in every detail
Simply more driving dynamics due to adjustable KW rebound technology
With our in 16 clicks adjustable rebound damping, you can further adapt the perfectly to your car pre-set damper setup to your driving profile with just a few manual steps. The adjustable rebound damping gives you the possibility to adapt the ST coilover kit either more comfortable or sportier.
Closed rebound stage
Sporty tight and Maximum Performance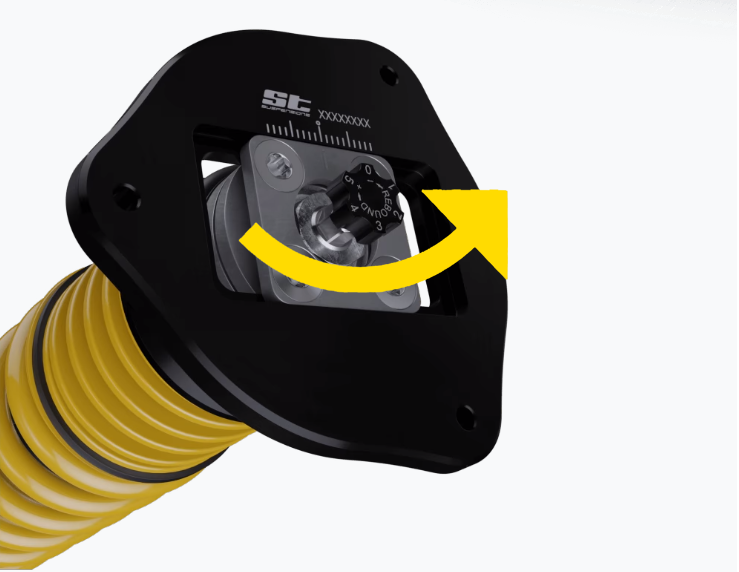 If you turn the adjusting dial into the right direction, you increase the rebound stage and you will get a tighter handling. High rebound forces (closed rebound) improve the handling again, especially on the front axle, and your car drives even more direct and unadulterated sporty. You want to use the closed rebound stage, if you drive with your car over serpentines or long curve passages.
Characteristics at a closed rebound stage:
direct steering behaviour
Pitching and rolling movements
of the body are reduced
Opened rebound stage
REMAINING COMFORT WITH EXTRA SPORTINESS
If you turn the adjusting dial into the left direction for driving on uneven roads most of the time, your ST coilover suspension will dampen better and you have more ride comfort than for example with a standard suspension and lowering springs. Therefore many also speak of a hardness adjustment instead of rebound adjustment.
Characteristics at opened rebound stage:
Increased rolling comfort
The high-quality ST XA coilovers have numerous features for a unique driving experience and a long durability.
Actual installation photos
KW and ST Suspension are also OEM partners for the following brands:
For more information, please contact us at:

Singapore
Mark Richards
+65 9868 8643 Mobile/WhatsApp

Malaysia:
Bryant Gan
+60 12-969 9855 Mobile/Whatsapp

Philippines:
Randy Buelva
+63 917 172 2272 Mobile/Viber

Thailand:
Sakdikit Trakulchoksathien (Big)
+66 86 972 4141 Mobile/LINE

Bruce Sarun (Bath)
+66 81 695 5566 Mobile/LINE

Contact Form: https://autoclinicgroup.com/contact-us/