WHAT SEPARATES KW FROM ITS COMPETITORS?
KW isn't just a company that creates suspensions. KW is a company of passionate and talented people, who are committed to perfecting the art of coilover suspensions for individuals through comprehensive research and development work.
Headed by Klaus Wohlfarth and his brother Jürgen since 1998, the dynamic brothers understood that each driver's needs from a suspension can vary from day to night. So they embarked on a tall vision of developing and perfecting the coilover suspension technology for individual requirements.
Today, KW has over 26,000 applications that cater to 2,350 different vehicles in a production facility that hand-assembles 400 sets a day in Fitchenberg Germany.
So what makes KW stand out from other suspension manufacturers?
1. KW HAS AN IN-HOUSE STATE OF THE ART 7-POST RIG FOR DEVELOPING ALL ITS SUSPENSION APPLICATIONS INDIVIDUALLY.
This highly advanced Formula One equipment analyses and extracts the vehicle driving dynamics data from the original suspension. With that rare and crucial information, KW can then individualise the R&D to specifically suit that model of vehicle. Then fine-tuning can be adjusted via the height, compression and rebound functions depending on the suspension Variant. Please watch the video for more information on the KW 7-Post Rig.


2. KW SUSPENSIONS OFFER INDIVIDUAL ADJUSTMENTS
Unlike other brands, KW coilover kits offer individual adjustments which allow drivers to benefit from fine-tuning the suspension settings to match his needs. Here is a quick overview of KW's coilover line-up.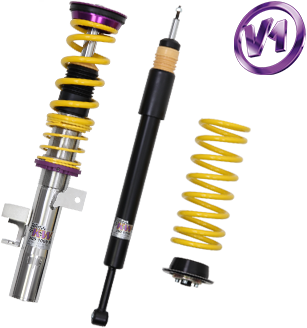 KW Variant 1: Height Adjustable

If you are looking for an entry level coilover set-up then the KW Variant 1 are for you. These coilovers feature a pre-fixed damping set-up that is configured by KW themselves. The perfect solution if you only want to lower your car.
KW Variant 2: Height Rebound Damping Adjustable

The KW Variant 2 is designed for drivers who want more than just lowering their cars. It features 16 clicks of rebound damping adjustment that can influence the feel of the car. With the rebound damping adjustment available, the driver can set the car to a tight set-up to a comfortable set-up depending on his liking.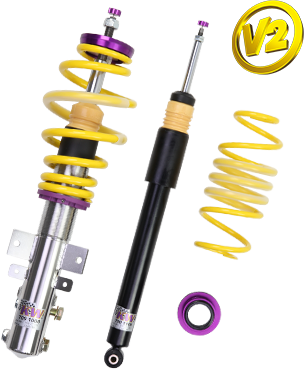 KW Variant 3: Height, Rebound Damping and Compression Adjustable

If the Variant 1 and Variant 2 is still not enough for you, then enter the Variant 3, KW's coilover that is designed to work well both on the track and the streets. The V3's feature an additional 12 clicks of compression adjustment. This allows a better bracing of the vehicle body and offers more comfort than with conventional valve technology in high speeds.
KW Variant 4: "inox-line"

With the KW Variant 4 coilover suspension "inox-line" we combine our leading racing technology with a significant increase of everyday suitability for numerous high-performance vehicles. This enables an independent adjustment of the rebound stage damping as well as low-speed and high-speed compression stage damping.
For more information on the full range of KW products, please visit https://www.kwsuspensions.net/products
3. KW USES PREMIUM QUALITY STAINLESS STEEL
Our KW stainless steel "inox-line" coilovers stand for a long driving pleasure
All of our KW coilovers are made using high quality and perfectly matching components and materials. So both our renowned racing applications for international motorsports benefit, but also your KW coilovers for the street.
All our KW coilovers, Variant 1, Variant 2, Variant 3, Street Comfort and the adaptive KW DDC coilovers from the KW iSuspension range are made from stainless steel. Whether the strut or the trapezoid thread or the vehicle-specific connections – we only use stainless steel. Our stainless steel "inox-line" coilovers in conjunction with corrosion-resistant springs and elastomers stand for a long-term driving pleasure.
Highly corrosion-resistant
Unsurpassed quality
No signs of wear at the adjustment mechanism – also during long use
Trapezoid thread in stainless steel eases height-adjustment
Perfect look – permanently
High load tolerance
The naked truth – The KW salt spray test
How resistant to rust are the KW coilovers "inox line"? We hear from our satisfied customers daily. But we wanted to know it more precisely and therefore we worked together with the Fachhochschule (University of Applied Sciences) Esslingen. The chemists and engineers of the FH tested the KW coilover struts made of stainless steel. So in total nine coilover struts from six different manufacturers went through a quality check.
Competitors – Coilover suspensions, zinc-plated
after 26 hoursAlready after 26 hours first pitting corrosion and corrosion patches
after 145 hoursAlready after 145 hour starting rust, corrosion in gaps and weld seams
after 229 hoursAlready after 46 hours single corrosion patches, after 229 hours not mobile anymore
KW coilover "inox-line" stainless steel
after 26 hoursinox-line, KW Variant 3 piston rods in perfect condition
after 145 hoursinox-line, KW Variant 1 no corrosion detectable at struts
after 229 hoursinox-line, KW Variant 1 easy to move, no corrosion
4. TRUSTED BY REPUTABLE CAR MANUFACTURERS AND TUNERS
KW is the trusted suspension partner for these renowned automotive companies for their top-of-the line vehicle models.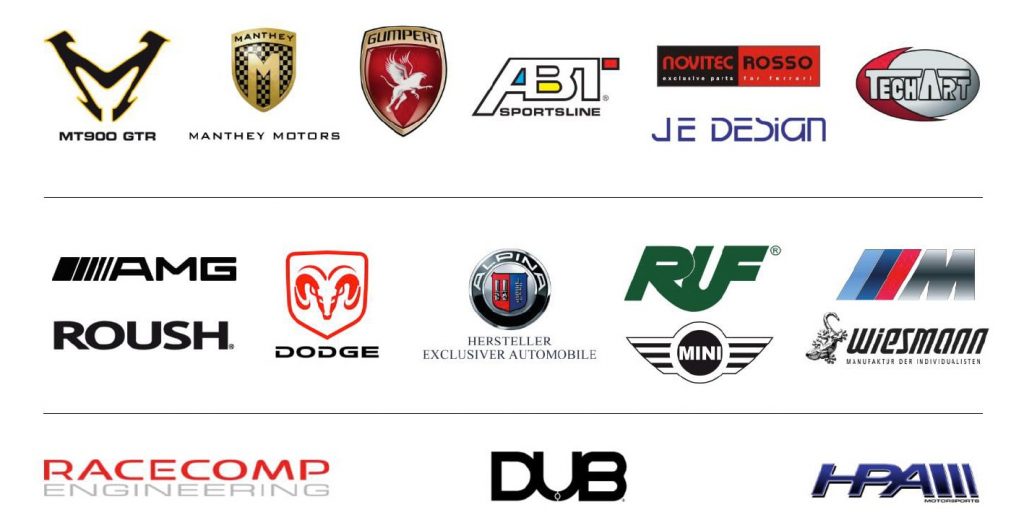 5. 2-YEAR UNLIMITED MILEAGE WARRANTY
KW confidently provides a 2-Year unlimited mileage warranty for your peace of mind. We believe in our suspensions and we hope you'll believe in us too. For more information on the warranty process, you may click this link.
SUMMARY:

When you choose to purchase a KW suspension, you're not just buying a product. You're investing in passion, commitment, leading-edge technology, premium quality, credibility and a peace of mind.
---
Visit KW's product finder for more information on the available applications for your vehicle: https://www.kwsuspensions.net/productfinder/-
---
For more information on which KW product is most suitable for you, kindly fill-up the form below for one of our KW customer service consultants to assist you: