45 hp more with chip tuning in Porsche
Macan SUV pulls ahead with power
The Porsche Macan is a compact luxury SUV and features a sleek and sporty design. With a broad and powerful engine lineup ranging from a 248-horsepower turbocharged four-cylinder to a 434-horsepower twin-turbo V6, the Macan already impresses in series production with sharp handling and impressive acceleration, as well as a premium interior equipped with advanced technology and high-quality materials. The premium PowerControl chip tuning takes the Macan 2.0 liter to a new level of power, cracking the 300-horsepower mark in the process.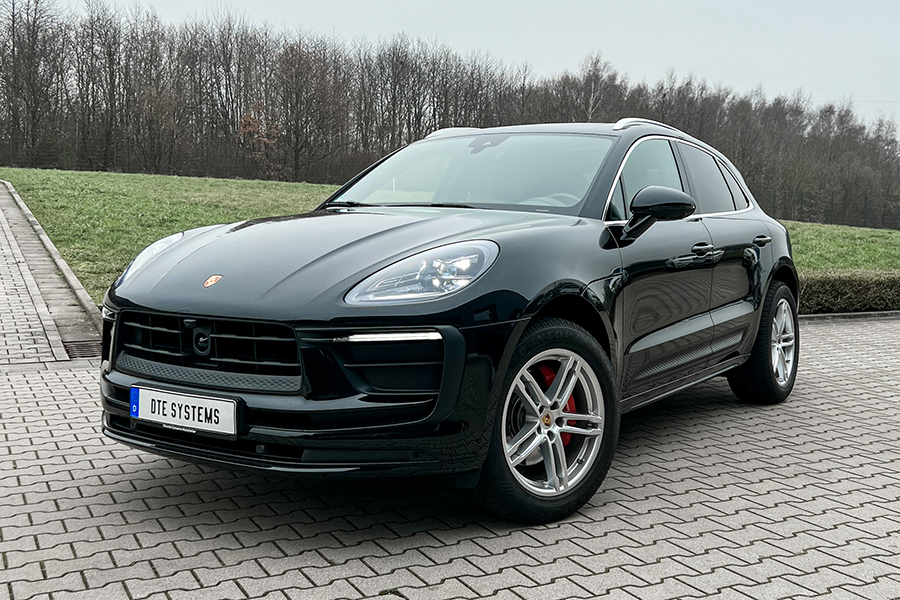 Porsche Macan with PowerControl
The chip tuning PowerControl increases the power of the Porsche Macan and makes the SUV sportier for the road and more fuel-efficient for travel. Thanks to the performance upgrade developed and produced in-house, a healthy +45 hp and +62 Nm of additional power can be achieved in the Macan. This brings the SUV up to 310 hp and 462 Nm. The performance upgrade optimizes all relevant parameters for the air-fuel mixture in the Porsche Macan and thus ensures more effective combustion. This not only gives the vehicle a more dynamic performance, but can also reduce fuel consumption in Efficiency mode. With up to 15% less consumption, you not only save fuel, but also cash when refueling. Included with the increased performance and improved consumption, PowerControl X comes with a 5-year product warranty.
Porsche Macan with PedalBox
To be even more dynamic and safe when starting off and overtaking, the Porsche Macan can be equipped with the PedalBox throttle response controller. The modern throttle tuning improves starting on slopes and mountains or intermediate acceleration on the highway and switchbacks. The throttle controller is installed in the SUV in just three simple steps. This gives the Porsche SUV an optimized response, and it can take off in no time. The PedalBox thereby pulls the Porsche Macan forward with momentum for a dynamic start and overtaking. This makes driving in the Macan even more relaxed and powerful.
For more information, please contact us at:

Phone:
+65 6475 5775

E-mail:
info@autoclinicgroup.com.sg


Contact Form:
https://autoclinicgroup.com/contact-us/